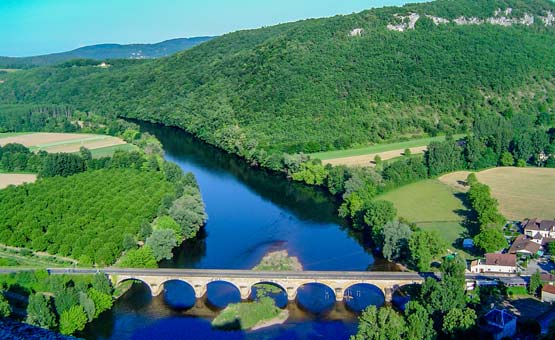 Welcome to the Vézère valley in the Dordogne. Our 4-star camp ground is open to you from from May until the end of September. Whether you come with family, friends or with your partner, you can discover the charm of the Périgord Noir. We offer A true adventure filled with castles, historic monuments and the caves of Lascaux which will take you on an tour through the prehistoric period.
Whether you are staying with us for a short or extended period, this region of the Dordogne has a multitude of activities available to suit your every need. For sporty types the Périgord Noir provides great forests where you can walk or go on a canoeing / kayaking trip. On our Périgord Noir camp ground you will find high quality accommodation that is in close proximity to any local sites you may wish to explore. You have the choice of mobile homes, modern chalets, spacious sites to pitch a tent, caravans and campervans.
Camping Holidays in the Périgord Noir
26 impressive sights can be found within a 15km radius of our 4-star camp ground in the Dordogne. The beautiful canyons of Proumeyssac, the prehistoric caves of Eyzies and the ancient village of Bournat all provide a wide range of attractions in the Périgord Noir.
Le Val de la Marquise, 4-star camp ground in the Perigord, offers many attractive holiday packages to explore the region on a budget.
The 4-star Perigord camp ground offers affordable accommodation that is located at the heart of the Dordogne near some of the area's most beautiful sites such as Le Bugue, Sarlat and of course the caves of Lascaux.
Treat yourself to a break and completely relax, as we offer you a holiday experience that will allow you to leave behind the hassles of everyday life.