Our 4-star camp ground is located only 29 km from the international centre of the parietal art: Lascaux 4.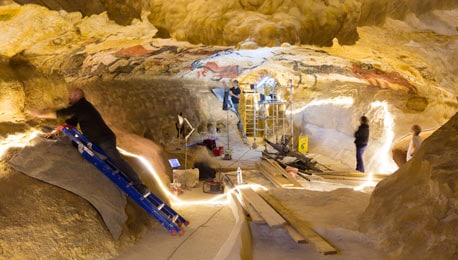 Campsite 30km from Lascaux
Are you looking for a campsite in Dordogne near the caves of Lascaux 4? Then Le Val de la Marquise invites you to the beautiful Vézère valley.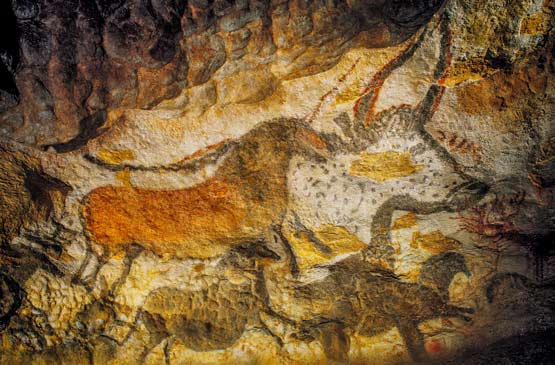 Discovery of Lascaux
Our 4-star camp ground is just 29 km from the International Centre of Parietal art: "Lascaux 4". Here you find the most visited cave in the world, which was discovered in 1940 by four Perigodinians from Montignac. The caves of Lascaux fascinate travellers from around the world: more than 10 million visitors have already seen their prehistoric murals.
The caves of "Lascaux" were closed to the public from 1963 because of a problem with green algae and excess of calcite on the walls, which affected the murals. Therefore, an exact copy of excellent quality was opened for the public, and Lascaux 2 was born. Later Lascaux 3 was created, offering an exhibition that showed three capitals around the world the prehistoric heritage of our beautiful Périgord.
On December 15, 2016, the international arts centre opened "Lascaux 4", a full replica of the original cave.
This huge project took more than four years to complete, and the result is breath-taking. The replica is perfectly recreated, making it the tourist attraction of the year. Horses, aurochs, bison, deer and ibex are painted or engraved in the rock walls, which visitors can admire in an authentic atmosphere. Inside, you feel as though you are in a real cave: cool and dark. It is evident that people who once made this magical place, the Cro Magnons, were brilliant artists.
The Lascaux 4 cave is absolutely worth a visit during your stay at our Dordogne camp ground.