The Périgord region is renowned for its gastronomy and laidback lifestyle.
Discover the markets in Dordogne
The many local products that the Périgord is known for, can be found at the stalls of the many artisan markets in the Dordogne. Experience the culture through the authentic taste of strawberries, foie gras and truffles from the area.
The best way to experience the culture of the Périgord and its gastronomy, is to scour the various markets in the region and get a taste of the real atmosphere of the Périgord.
The local markets in the Dordogne are a key industry in the Dordogne; 365 days a year the villages of the Perigord live according to the rhythm of market life, and offer their local delicacies to gourmets from all over the world. It is here you'll find high-quality products and artisans that made Périgordian gastronomy world-famous: French cheeses like the delicious cabécou or Rocamadour, nuts, strawberries, crèpes, duck, foie gras, chestnuts and chanterelles are just a few of the delicacies that are sure to make you mouth water.
Roaming the craft markets of our beautiful region is a must, and is an adventure that should not be missed during your holidays in the Dordogne.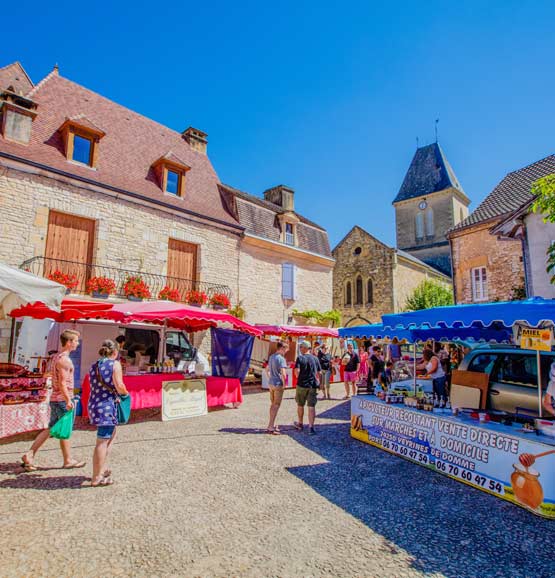 Market days in Dordogne
Trading hours and locations of the best local craft markets in the area near our campground in Dordogne:
Monday: Les Eyzies at 6 km from the camp ground
Tuesday: Le Bugue 4 km from the camp ground
Wednesday: Sarlat 20 km from the camp ground
Thursday: Meyrals 10 km from the camp ground
Friday: Le Buisson de Cadouin 13 km from the camp ground
Saturday: Sarlat 20 km from the camp ground
Sunday: Saint Cyprien, 10 km from the camp ground
The Dordogne is renowned worldwide for its exceptional cuisine and delicacies, including truffles. We can highly recommend you visit the "the producteurs marché de pays" market (i.e., the fam produce markets). These small markets guarantee excellent craftsmanship and high quality local products. There are also many evening markets, where you can roam and taste the flavours of the region on a warm summer evening together with the locals, farmers and artisans.
If you are looking to spend your holidays in the Dordogne on a camp ground ideally located near the many wonderful local markets of the region, do not hesitate to make your reservation at Le Val de la Marquise now.