The mobile home is the ideal accommodation for family holidays.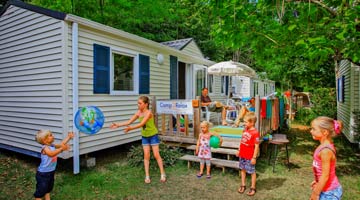 Our mobile homes are modern, bright, comfortable and perfectly maintained. Ideal for your next holiday in the Dordogne. All our mobile homes are equipped with a bathroom, toilet and wooden porch (covered or uncovered).
Our mobile homes can host up to 6 people and have between 1 and 3 bedrooms.
Rent a mobile home in Dordogne
Rent a comfortable mobile home in the Dordogne
The rental of a modern and fully equipped mobile home in Dordogne in a high-end campsite like the Val de la Marquise in the countryside is a guarantee of quality. By booking a mobile residence for 2 to 6 people, you will enjoy the comfort of a prestigious residence, the privacy of a bed and breakfast and the friendliness of a campsite. All our mobile homes have a living room (some with TV), a kitchen with crockery and equipment (hotplates, refrigerator, microwave, coffee maker), 1 to 3 bedrooms, a bathroom, separate WC and a terrace.
Our mobile homes are located in large plots with sunny and shaded areas, bounded by vegetal borders. Whatever your choice, you will have a private garden and a space to park your vehicle. One last detail, and not least: all our models are distinguished by their aesthetics, their contemporary interior and their excellent layout.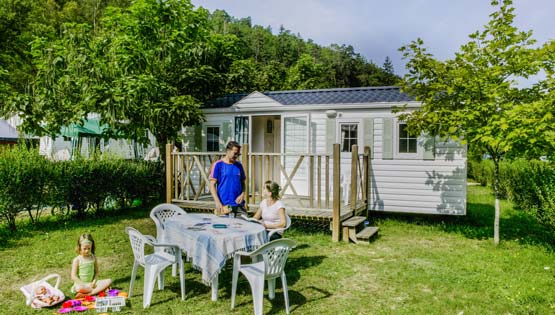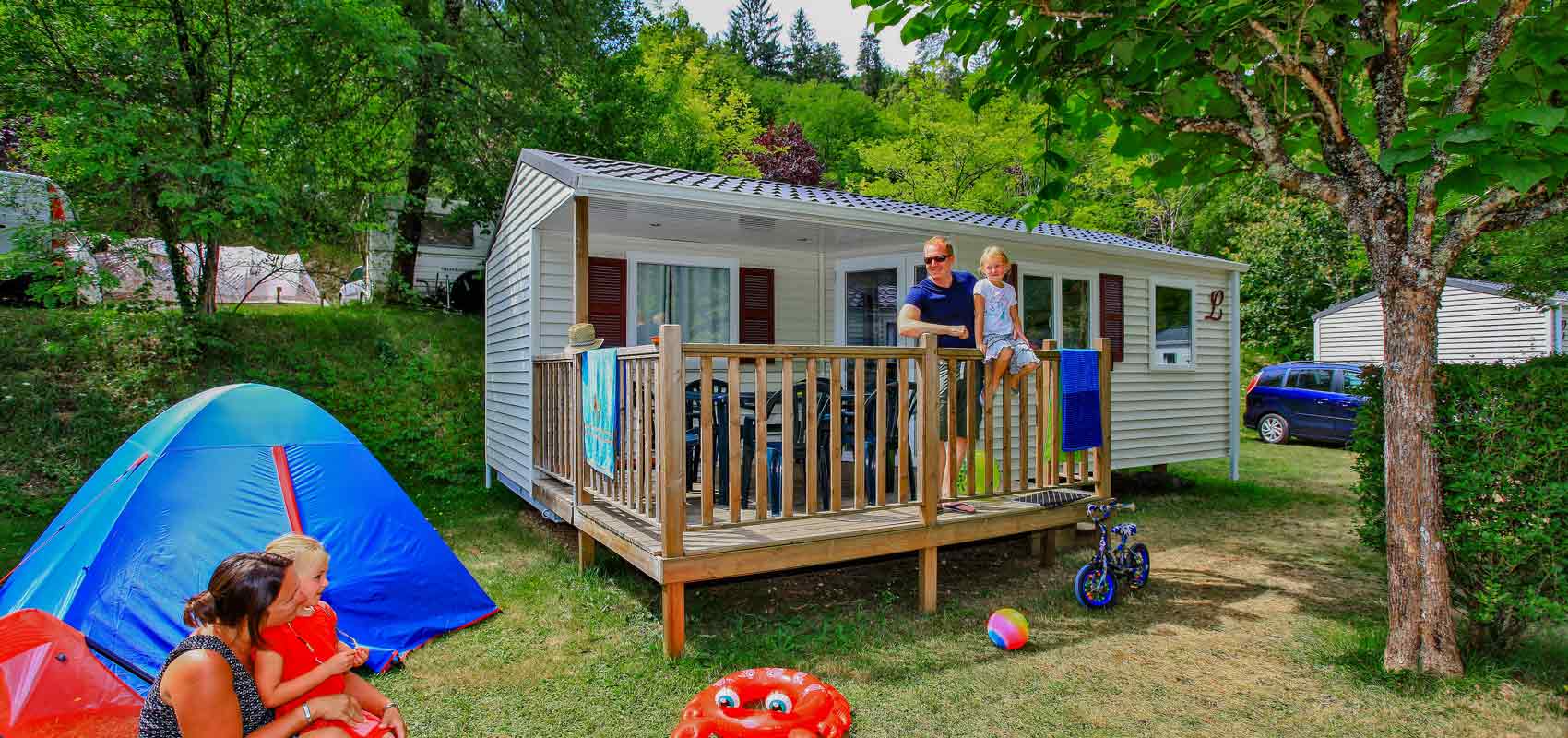 Rent mobil home from 20 to 32 m2 near Sarlat
You can imagine: a couple who offers a romantic getaway in the Dordogne, a large family who wants to enjoy the joys of a luxury campsite at a reduced price and a group of friends who have come to celebrate an anniversary in the Périgord have not the same needs. Our selection of mobile homes includes several ranges and several models so that all holidaymakers find the accommodation that suits them.
Do you travel in love? The mobile home Duo of 20 m2 will allow you to sleep in a cozy bed while reducing your expenses. For families with 2 children, we offer several mobile homes for 4 to 5 people (2 separate bedrooms, 24 to 27 m2). Do you put together an expedition? Turn to a XXL mobile home of 28 to 32 m2 (2 or 3 bedrooms), the ideal solution for large families and groups of friends. Each mobile home selected by us has several living spaces for comfort and privacy.
With private terraces
You will know it before you even cross the doors of your mobile home: the terrace with its table and its garden chairs will be your space of relaxation and your place of gathering at the time of the aperitif and during your meals. In a sunny region like the Dordogne, a covered or semi-covered terrace allows you to better enjoy the mild climate of Aquitaine. Want to read or rest in the shade of the umbrella, away from prying eyes? Re-energize on your private terrace and let your gaze get lost in the greenery that surrounds you. The comfort is good? Some of our terraces are equipped with sun loungers and a barbecue. A word to you …