The Les Eyzies village is known worldwide as it was once "the world capital of prehistoric period".
Campsite near Les Eyzies
Are you looking for a family camping holiday close to Eyzies in the heart of the Périgord Noir? If so we very much look forward to welcoming you to our beautiful four hectare property that is just 6 km away from Eyzies de Tayac.
It was here that the remains of the first Cro Magnon man were found. This corner of the Dordogne was inhabited by Neanderthals and Cro-Magnon persons. During the Ice Age, the Vézère valley was a good place to live as natural resources were abundant due to the areas favourable microclimate as a result of its location between several mountain ranges.
The early mankind survived here by hunting, fishing and gathering. The natural environment was also an excellent place to seek shelter as homes could be carved into the naturally soft limestone rocks. You can visit the magnificent cave of Font de Gaume (our favorite) and admire the original polychrome murals that remain from the prehistoric period. The Combarelles cave with their many intricate rock carvings are also worth a visit.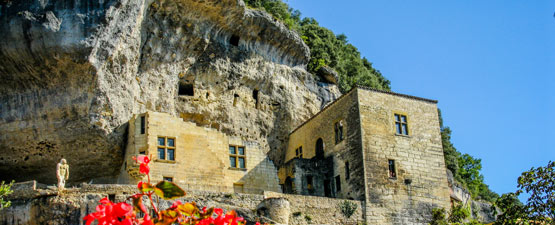 Les Eyzies: world capital of prehistory
In Eyzies, explore vast fields where prehistoric Paleolithic man lived, and discover: the Ferrassie of Micoque, Le Moustier, Laugerie Haute.
In 2010, the International Prehistoric Centre was inaugurated in Eyzies de Tayac, 6km from the camp ground. It was created in order showcase the scientific knowledge we know possess pertaining to the prehistoric period, early man and the sites in the area. There are many tourist guides who can tell you all about the more than 400,000 years of history that can be found here. Entrance is free.
As can see, this is a unique opportunity to stay in the historical heart of the Dordogne. If you are looking for a mobile home near Eyzies, our Périgord camp ground is the ideal place for your family vacation.