Our
4-star camping Dordogne
offers many high-quality facilities to ensure you have the most comfortable vacation possible.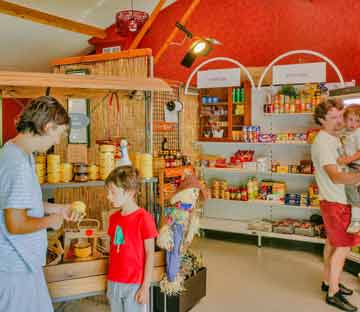 The reception at our campsite in the Dordogne:
Open 7 days a week from April 29th to September 30th
Opening hours: 8:30 to 13:00 – 15:00 to 20:00
At our reception, you will find all the information you need to have a dream holiday in the Dordogne. We offer brochures with all the attractions, landmarks and activities in the area (castles, caves, cliffs, gardens, canoeing), schedules of which days to visit the many local markets in the Dordogne and all the festive activities you can experience in our beautiful Périgord region.
We also have a postal service at the reception and we sell postcards so you can send one home and tell your loved ones about your adventures.
You can request timetables for all hiking and mountain biking tours at the reception as well. We also sell maps for mountaineers, and we can recommend good climbing guides.
When you arrive at the camp ground, we will give you a full welcome pack with all the necessary information about the grounds themselves and the natural environment in the Dordogne.
To complete your vacation, we also provide additional services: sunbeds, baby kits (which include a cot, baby chair, baby bath), camping fridges, go-karts and more.
We also have sports equipment like table tennis rackets, badminton rackets and shuttlecocks and balls (for soccer, volleyball, basketball).
There is also a library located in our reception, with a choice of English, French, Dutch and Spanish books for children and adults.
The Tiki Bar :
During our high season, from late June to early September, The Tiki Bar is pleased to welcome into its exotic atmosphere.
Enjoy the warm summer sun, sitting on the terrace with a refreshing cocktail or ice cream in your hand, near de Camping Dordogne pool.
The restaurant has a bakery service that sells freshly baked baguettes, croissants and pain au chocolat each morning. There is also a small grocery shop in the tiki-bar, where you can find regional products and wines from Bergerac.
Doing laundry at our camp ground in the Dordogne:
On our 4-star camp ground in the Dordogne we have two washing machines (€ 4 per token) and a dryer (€ 3 per token). An iron and ironing board are also provided.
Barbecue Zone at our campsite in the Dordogne:
As a barbecue is a necessity at any camp ground, we have a barbeque area with picnic table at the entrance.
WIFI at our 4-star camp ground in Périgord Noir:
WIFI is available on the entire camp ground. During low season you have free access, during high season our WIFI can be used for a small fee.